After a day at work everything hurts?
Your eyes are red?
Your back hurts?
This sounds like digital vision stress. VIVIOR detects the exact causes – and thus provides a secure basis for remedy.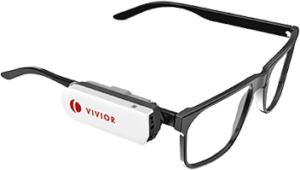 65% of all adults
30% of all children
suffer from digital vision stress – do you too?
Digital vision stress affects us all!
he reality of our digital lives has many advantages. But it is also associated with challenges. One central problem: long periods at computer workstations that are not adapted to the individual needs of the user. And in alternation, permanent contact with digital devices in close range.
As a result, negative side effects appear that many of us know all too well: Pain in the head, neck and shoulder. Concentration problems. Dry and burning eyes. Fatigue. Blurred vision. Sleep disturbances and reduced performance.
This is long-term poison for motivation and damaging to our health.
Perfect Diagnosis in Just Three Steps!
Using VIVIOR
The client receives the VIVIOR. Wears it for 36 hours, including working and non-working days.
Data Collection
When the data collection is complete, the client returns the VIVIOR, the data is uploaded to the VIVIOR cloud where AI algorithms process it.
Diagnosis
The data collected with VIVIOR is visualized. After data-based diagnosis, the most appropriate treatment method is determined.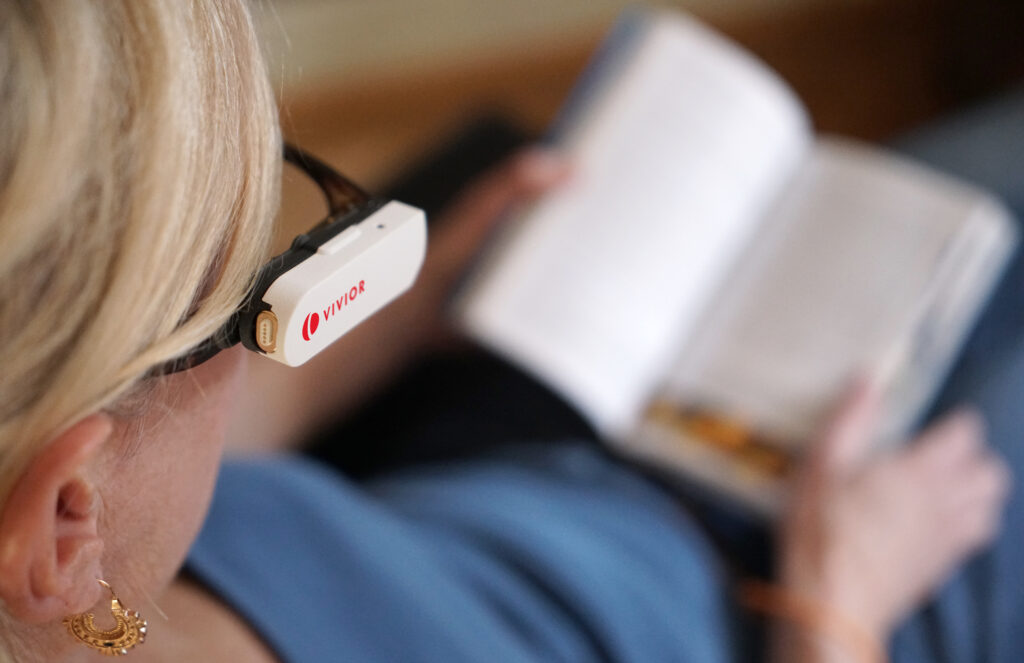 VIVIOR is a precise analysis tool. It records the conditions in everyday life not on the basis of estimates or gut feeling, but directly where working life takes place. Attached to the temple of a pair of glasses, VIVIOR accompanies you through the day and objectively records all important factors. How long do people look at the screen and at what distance? What is the lighting situation? What is the posture and position of the body and how does the head move? What is the UV and blue light exposure?
From the collected data, VIVIOR draws an overall picture of the situation. Precisely and objectively. And thus provides answers to the important question of whether visual stress is present. And if so, what causes it. And knowing where problems come from is then already part of the solution.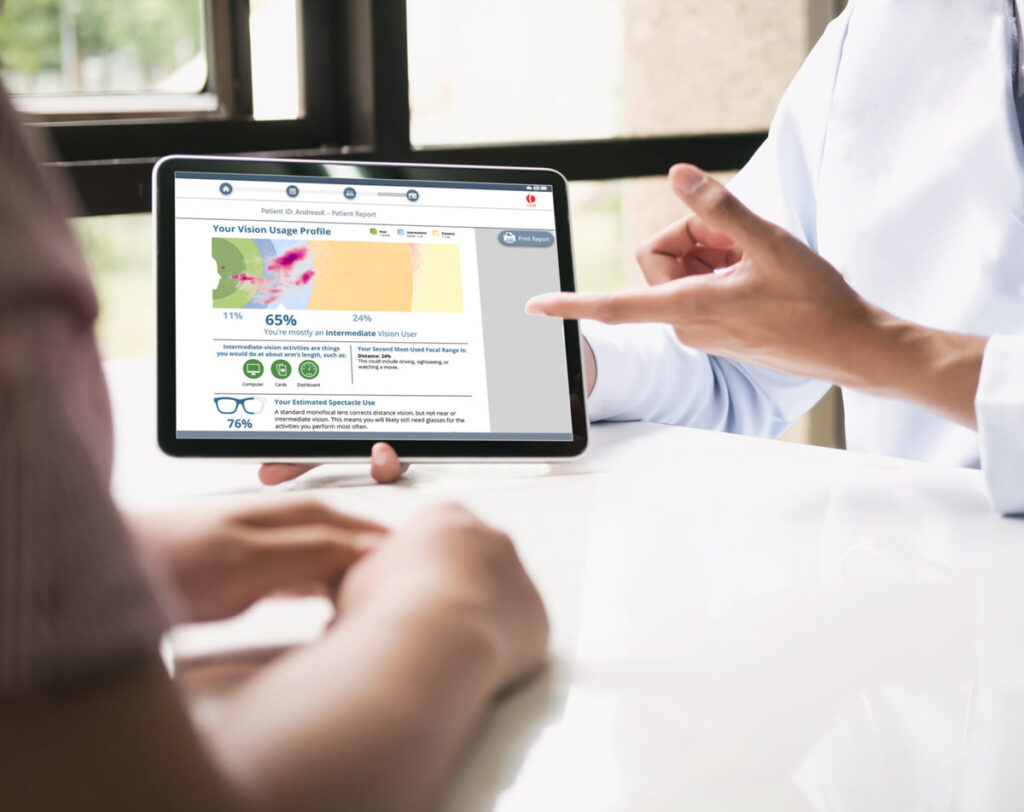 As different as people are, so different can be the ways to improve, such as: redesigning the workplace. Or scheduled exercise breaks. Adjustments in posture profile. Optimized lighting conditions. Improved vision aids that take more account of the everyday profile. Often, tips on eye care or targeted relaxation exercises also help to alleviate visual stress.
The exact recording of your digital life situation, however, in no way means that VIVIOR taps personal data.
VIVIOR protects your privacy. The sensor technology in the analysis tool does not have a camera, microphone or technology that can detect the location.
Frequently Asked Questions
No. VIVIOR does not have a camera.
No. VIVIOR does not have a microphone.
No. The VIVIOR device does not save your location.
No, VIVIOR does not collect any personal information. VIVIOR does not collect any personal information. It only collects data such as screen viewing time, viewing distance, ambient light condition, body posture, blue light exposure time after 36 hours of use for analysis and diagnosis.
After 36 hours of use, VIVIOR is returned by the client to the relevant doctor/unit to analyze the data.
VIVIOR can be used by all clients who suffer from visual impairment or who want to monitor and follow their eye health with the guidance of a doctor.
Especially those who work at a desk / computer for a long time, Gamers and E-Sportsmen, drivers who drive for a long time.
Health does not wait!
Let us give you a call.
If you are looking for a reliable and trusted provider for vision correction services, look no further than Swiss Vision Group. Contact us today and discover the difference expert care and attention can make to the quality of your vision.
We wish you a healthy day.
Swiss Vision Group